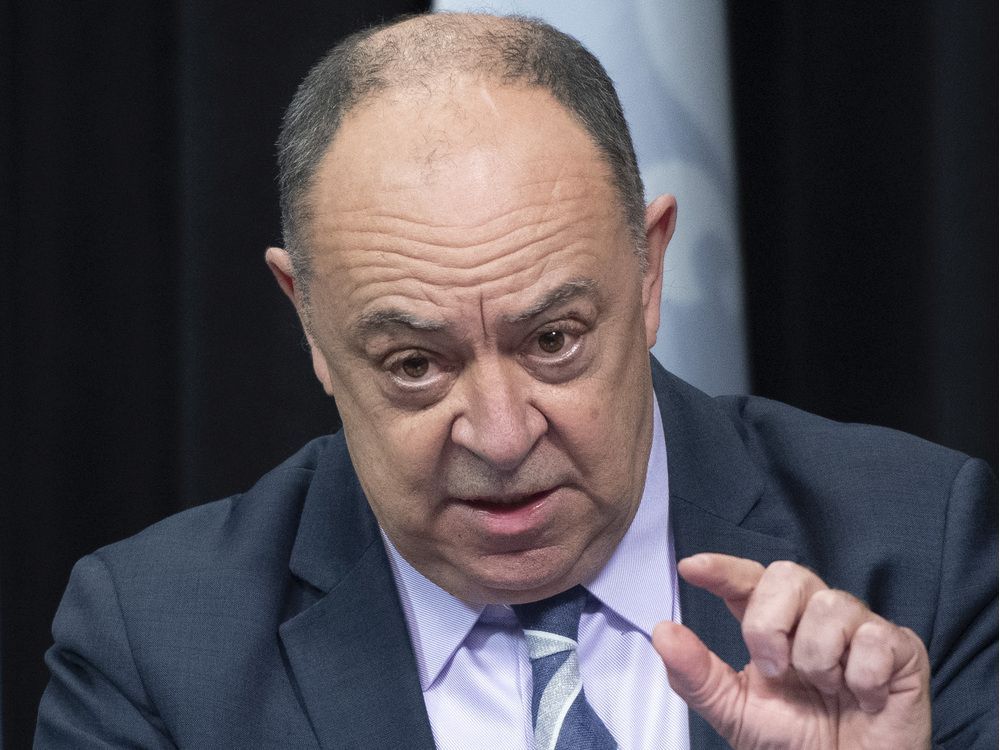 The vaccine passport "has served our purposes", says Dubé as the measure is phased out
"There is no connection with the political environment," said the Minister of Health in reference to the recent wave of protests against public health measures.
Content of the article
QUEBEC — Refusing to respond to pressure from the streets, the Quebec government announced Tuesday that it will gradually eliminate the vaccine passport system.
Content of the article
"We are doing it now because it is the right time to do it, because it is safe for public health," Health Minister Christian Dubé told reporters at a press conference. "There is no connection with the political environment."
Nevertheless, the change has been dramatic. As recently as last week, Dubé was saying there were no plans to lift the vaccine passport or mask mandate by March 14, when nearly all health measures are expected to be dropped.
On Tuesday, he argued the opposite for the passport, saying it "has served our purposes" and that public health – using new data – is now recommending the government phase it out.
As of Wednesday, you will no longer need to show your passport to enter Société des alcools du Québec (SAQ) and Société québécoise du cannabis (SQDC) outlets or to enter retail stores. area.
Advertising
This ad has not loaded yet, but your article continues below.
Content of the article
On February 21, the passport will no longer be necessary to be admitted to places of worship or to attend funerals.
On March 14, the passport will be completely abolished. You won't need it to enter a restaurant, bar, casino, gym, cinema, CHSLD or private seniors' residence, or to attend public events.
Dubé, however, recommends that Quebecers keep the application on their phone in the event of a sixth wave of COVID-19. Proof of vaccination is also still required for domestic travel by train and plane, as these regulations are federal. Proof is also required for international travel.
Dubé defended the use of the passport, which has been the subject of some of the many protests taking place in Canada, including one taking place this weekend in Quebec.
Advertising
This ad has not loaded yet, but your article continues below.
Content of the article
The Quebec vaccine passport has been in place since September 1.
"There were a lot of Quebecers who liked passports," Dubé said. "It allowed us to protect the unvaccinated because it limited contact and it helped protect the healthcare system."
Dubé said the government estimates the passport system alone prompted 600,000 initially reluctant Quebecers to get vaccinated.
Present for Tuesday's press conference, the acting director of public health, Dr. Luc Boileau, supported the change. He said that the COVID-19 situation is stabilizing in Quebec, which leaves more latitude. On Tuesday, the province reported 2,052 hospitalizations, including 132 people in intensive care.
Boileau noted that 85% of Quebecers aged 60 and over have received their third dose of the vaccine. Meanwhile, 25% of the population has now contracted the Omicron variant, which is much more contagious (but less virulent). This made the two-dose passport vaccine less effective.
Advertising
This ad has not loaded yet, but your article continues below.
Content of the article
"We cannot move forward with a standardized three-dose vaccine passport because many Quebecers, perhaps 2.5 or three million, have recently been infected and we suggest that they wait eight to 12 weeks before d to be updated with the third dose.
By then, around the end of April, the current wave of Omicron should be over, he added.
Boileau, however, said he was not considering any changes to the rules that make masks mandatory in all indoor public places.
"The epidemiological situation does not allow us to remove the masks at this stage," he said. Masks are another source of frustration for protesters.
Quebec's decision on the passport mirrors that of other jurisdictions. Ontario has announced its intention to discontinue its passport effective March 1. On Tuesday, the federal government also eased regulations for international travel.
Advertising
This ad has not loaded yet, but your article continues below.
Content of the article
On Monday, Prime Minister François Legault said he would like to abandon all health measures created to fight COVID-19 as soon as possible.
News of the vaccine passport has been welcomed by Quebec business leaders, but opposition parties have ganged up on the Coalition Avenir Québec government, saying the move is another example of the erratic handling of the pandemic. by Quebec.
"Curfew, no curfew, an anti-vaccine tax, no anti-vaccine tax, the vaccine passport maintained, now abolished," said liberal leader Dominique Anglade. "The contradictory messages of François Legault must stop.
Gabriel Nadeau-Dubois, co-spokesperson for Québec solidaire, said he wanted to see the original public health notices proving the passport system made sense from the start.
COVID Updates for Tuesday, February 15

Legault concerned about the use of the Emergency Act in Quebec

Allison Hanes: Quebec's flip-flop on vaccine passports is puzzling
Find all our news related to the coronavirus on montrealgazette.com/tag/coronavirus.
For information on vaccines in Quebec, press here.
Sign up for our email newsletter dedicated to local COVID-19 coverage at montrealgazette.com/coronavirusnews.
Help support our local journalism by subscription to the Montreal Gazette.