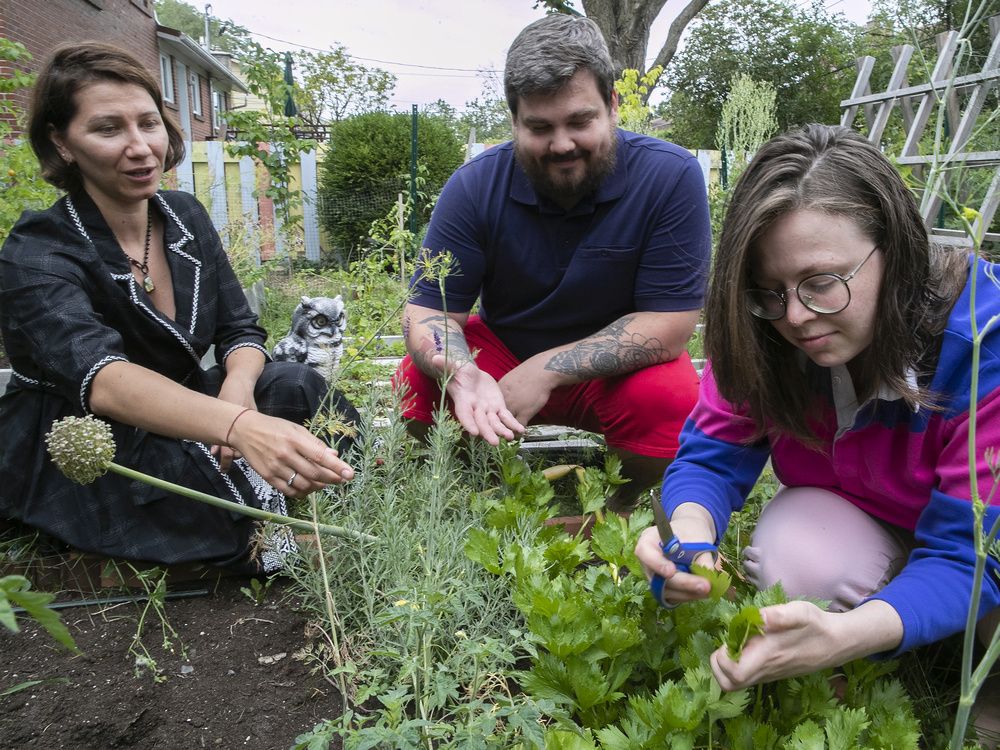 The Ukrainian community asks Quebec to subsidize daycare centers for those fleeing the war
"They have to take French lessons, but if they go, who will they leave their children to?"
Content of the article
The Ukrainian community is begging the Government of Quebec to allow those fleeing the war in their country of origin to have access to subsidized daycare places.
Content of the article
Since most Ukrainian men between the ages of 18 and 60 are not allowed to leave their country, a large number of families coming from Ukraine consist of only one parent. It is therefore even more essential to obtain subsidized child care spaces, said Michael Shwec, president of the provincial council of the Ukrainian Canadian Congress. However, he said, the status of those arriving from Ukraine makes them ineligible for the subsidized daycare program.
Ukrainians who come to Canada do so on temporary resident visas, but are not eligible for subsidized child care. If they had been considered refugees or even foreign workers, they would have been eligible.
"During initial discussions, we understood that this new class of visa would be eligible for $8-a-day daycare in Quebec, but that (qualification) was removed," Shwec said. "So that's a problem. They have to take French lessons, but if they go, who do they entrust their children to?
Content of the article
Shwec said the community raised the issue with the province in the spring and asked for changes to be made, but has not heard back since that meeting.
Reached by email, Antoine de la Durantaye, spokesperson for the Minister of the Family Mathieu Lacombe, declared that the CAQ government only respects the rules put in place by previous governments.
"We are very sensitive to the situation Ukrainians are going through and the difficulties they are facing," he wrote. "You have to remember that they already have access to respite childcare, to non-subsidized places, and can also benefit from tax credits enhanced by our government to help defray the costs. It is also important to note that these rules have been in place since the creation of the subsidized child care program in 1997.
Content of the article
Dollard-des-Ormeaux resident Tatiana Romano has welcomed newcomers since the conflict began in February, and will continue to do so for the foreseeable future.
She said she doesn't see the logic behind denying child care spaces to these newcomers.
"We give them free schooling and government-paid health care. We offer them so much, but we can't take that extra step? I don't understand it.
Romano said she knew a woman who had three children, two of them preschoolers, and the daycare center across the street from where she lived told the woman they couldn't accept her children. . She can't afford an unsubsidized place, which can cost $40 a day or more.
"With two children, she will have to find another daycare and pay at least $80 a day. There's no way she can make that kind of money," Romano said.
Content of the article
"There's a lot of stress coming to a new country, and when you need someone to look after your child, you don't have an aunt or a cousin," she said. "Add to that the stress of trying to find daycare they can afford."
Next month Romano will have two mothers with six and seven month olds living with her. She said she was concerned about the well-being of the mothers, as well as her own ability to help them if they did not have childcare.
"I really hope the government will change this situation," she said. "I'm working from home right now, and having two screaming toddlers wouldn't create a good working environment. My job allows me to help these people, so I hope my government will step in.
Romano said many of those coming from Ukraine are highly skilled and educated, so keeping them at home does a disservice to society as a whole.
Content of the article
"These mothers want to work; they want to contribute to the Canadian economy," she said. "There are so many vacancies now, there is a real need for them to be freed up to work."
Shwec said many of those in the first wave of those fleeing Ukraine were housed by family members, so they were able to get help with childcare. The next wave, however, will likely include Ukrainians with fewer family ties.
"If you have an immigrant coming here, you have to set them up for success," Shwec said, "and part of that is if you want this mother to work, she has to know that her child is being well cared for, and that It's affordable It's very hard.
Ukrainians seize the chance to start a new life, with the support of the West Island community

"We are witnessing the incredible": Montreal Ukrainians fear for their families