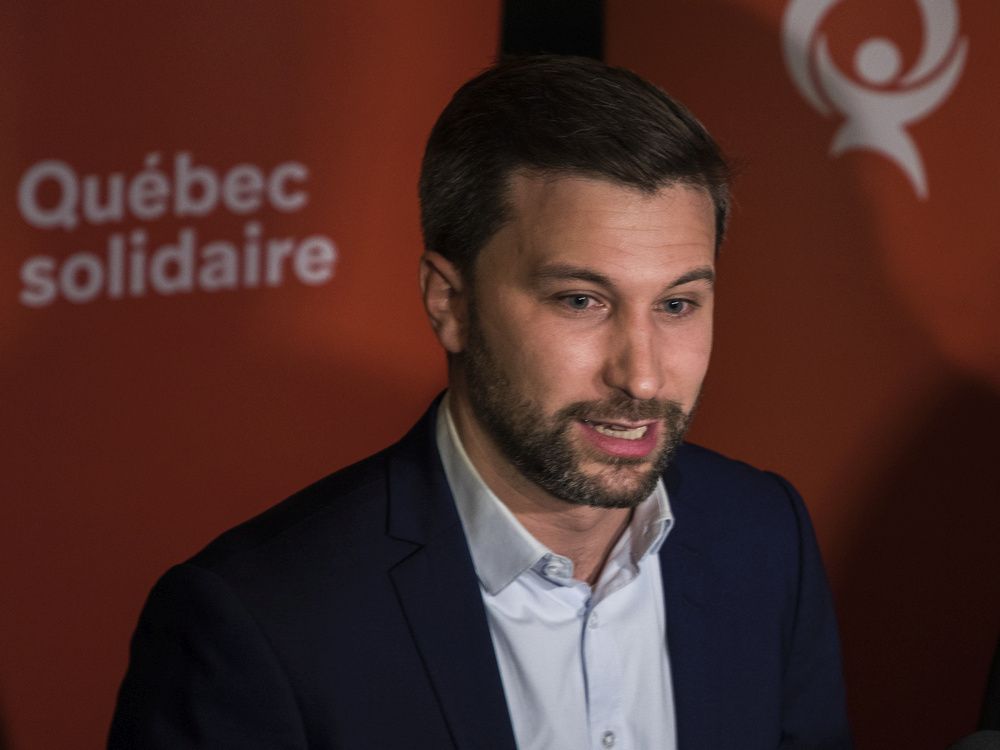 Québec solidaire pledges to dismantle Bill 21 and authorize religious symbols
Gabriel Nadeau-Dubois says his party, if elected, will challenge the law on secularism before the highest court in Quebec.
Content of the article
Gabriel Nadeau-Dubois of Quebec solidaire said his party would radically rewrite Quebec's Bill 21 and allow teachers, police officers and other public officials in positions of authority to wear religious symbols at work.
Content of the article
Three months before the provincial election, the party is also proposing to challenge the law in Quebec's highest court, arguing that it violates the province's bill of rights.
"We believe that secularism, which is an important value in any democratic society, should apply to institutions and not to individuals," Nadeau-Dubois said in an interview Monday.
"No one should be prevented from doing a job because of their beliefs, it's something we care about. This is why if we are the next government of Quebec, we will modify the bill to ensure that everyone can work in the public sector, regardless of their beliefs and regardless of the religious symbols they wear.
Passed in June 2019, Bill 21 prohibits certain officials in positions of authority – including judges, police, prosecutors and public elementary and secondary school teachers – from wearing religious symbols such as a hijab , a turban, a crucifix or a yarmulke at work.
Content of the article
Premier François Legault argued that Bill 21 is a moderate law that the majority of Quebecers want and that it allows all citizens, as well as most public employees, to wear what they want in public.
The law was passed by a vote of 73 to 35 in the National Assembly, with Legault's majority Coalition Avenir Québec and the Parti Québécois voting in favor and the Liberals and Québec solidaire voting against.
However, Québec solidaire never clearly indicated what it would do with the law. In January, the party announced during a two-day caucus that it would amend Bill 21 to allow women and men of all faiths to wear religious symbols while teaching.
Nadeau-Dubois said the party has now decided to flesh out its plans because it is "important to be transparent with the public on the eve of the election".
Content of the article
Québec solidaire does not intend to make the debate on secularism a pillar of its election campaign, he said, preferring to focus on climate change, the cost of housing and ways to deal with inflation.
As for Legault's view that Bill 21 reflects the values ​​of Quebecers, he said, "I never fully understood the connection between Quebec values ​​and their restrictions of religious symbols for a handful of jobs. in the public sector. I think there are many good reasons why we should be proud of Quebec — our history, our culture and our environment, for example.
"But the fact that we forbid a woman who wears a headscarf to be a teacher, I don't see how it's linked to the pride of being a Quebecer."
Québec solidaire would keep in place regulations in the bill that specify that public services must not be provided with a covered face. For example, Nadeau-Dubois said, public services like teaching a class or a police officer dealing with a citizen should be performed with their faces uncovered for safety or convenience.
Content of the article
"It's common sense that someone teaching in a school in Quebec should have their face uncovered," he said. "And citizens should rightfully expect to be able to identify the policeman speaking to them."
The party says it would challenge Bill 21 in the Court of Appeal, Quebec's highest court, to determine whether it violates Quebec's Charter of Human Rights and Freedoms.
"This charter was rightly adopted by the National Assembly of Quebec — it is one of the main pieces of Quebec's social contract, and people deserve to know if this charter respects it," said Ms. Nadeau- Dubois. "Unfortunately, the CAQ used the notwithstanding clause to protect its review by Quebec courts."
Quebec solidaire will not renew the use of the notwithstanding clause of the Constitution to shield Bill 21 from the courts, he said.
Additionally, if elected, he will change legislation so that public funds are no longer used to fund religious schools in the province, and he will remove tax-exempt status for religious organizations.
"These are real rules to make sure church and state are separate," he said.
Bill 21: Legault says the government listened to the majority and acted

Bill 21: Quebec adopts the law on secularism after a marathon session