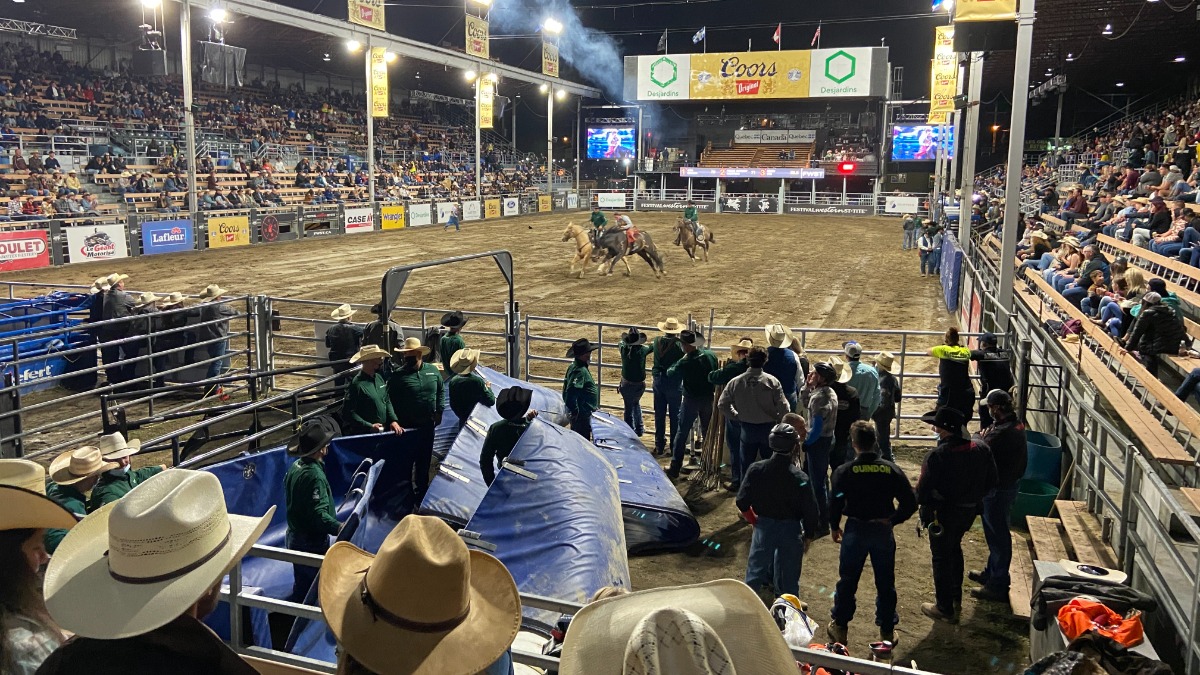 Quebec rodeo festival, under strict COVID guidelines, welcomes visitors for the first time since the start of the pandemic
After an interruption imposed by the pandemic last year, the 53rd edition of the Festival Western de Saint-Tite returned to Quebec from September 10 to 19 with strict countermeasures against COVID-19 in place.
The 10-day rodeo in Saint-Tite, a town of about 4,000 inhabitants located 130 kilometers west of Quebec in the Mauricie region, usually welcomes more than 600,000 visitors per year. This year, restrictions linked to the pandemic reduced the number of visitors, but the organizing committee did not record the number of participants.
COVID-19 measures in place
"Everyone must have their vaccination passport to enter the stands, to access the reserved seats. People needed to sit in their bubble and we had a maximum of 2,500 people per rodeo, "said Sylvain Bourgeois, rodeo director at the Festival Western de Saint-Tite.
The Quebec government introduced a province-wide vaccination passport on September 1. Some non-essential businesses are required to scan a QR code on customers' smartphones to make sure they have been properly vaccinated against COVID-19 before allowing them in.
Festival staff checked spectators' vaccine passports and matched names on smartphone screens to information on provincial ID cards. Festival-goers from outside Quebec were admitted if they could present proof of vaccination from their province and an identity document proving their province of residence. Those who were checked and cleared were given a brown paper wristband.
The event was held outdoors, so guests were not required to wear masks. However, beer and snack vendors, security guards, paramedics and other staff had to wear face coverings in the stands.
According to Bourgeois, the rodeo's competitors also followed strict public health measures.
"There were a lot of young competitors who had not yet received their second dose, so we gave them 72 hour COVID tests and they had to wear a mask at all times, except when they were competing," he explained.
The morale of the competitors was not cooled despite the additional stages.
"The participants were happy to be able to practice their sport after such a long break. This year's event was aimed primarily at our competitors and our equine and cattle athletes, so that they can stay in shape, "said Vanessa Denis, communications coordinator at the Festival Western de Saint-Tite.
Bourgeois said all COVID-19 measures were very well respected and appreciated.
"I haven't heard any complaints from the competitors. Everyone was just happy to be back in competition. The spectators said we did a good job. Everyone felt safe.
Local business owner Philippe Dumais said public health measures in Saint-Tite were well implemented during the festival. According to Dumais, the Sûreté du Québec and festival security personnel had a visible presence throughout the event.
"People were very respectful and happy to come to Saint-Tite," said Dumais.
Impact on business
The event was canceled in 2020 due to COVID-19. Dumais said he was not surprised.
The festival was first hosted in 1967 in the city's baseball field by a local leather boot factory, GA Boulet Inc., as a promotional event. The following year, other local businesses joined to help organize the event and it eventually became an annual festival. The current stands were inaugurated in 1999, replacing the old one from 1972. Today, GA Boulet produces more than 200,000 pairs of boots per year and is still in its original location.
It is a major source of tourism income for the community. In 2019, visitors spent $ 3.8 million and created $ 600,000 in direct economic benefits for the city, according to their annual report. With the resumption of in-person activities this year, tourist dollars are starting to return to Saint-Tite.
"The fact that there are no kiosks on the streets has led visitors to consume more locally, which we have encouraged them to do," said Denis.
Dumais felt this effect. He is co-owner of À La Fût, a microbrewery in Saint-Tite. He said he wouldn't have thought that so many people would come with so little activity going on.
"We are really happy that people are coming for the festival. Since there aren't a lot of options to open restaurants, when our restaurant is full we have people lining up outside, "said Dumais.
Even though the festival was back in town, the number of visitors has been drastically reduced this year. As a result, some local businesses felt pinched.
"Of course there are a lot of businesses in Saint-Tite for whom the festival is an important element of their viability for the year," said Dumais. "For these companies it has been a challenge.
A subdued atmosphere
For Bourgeois, the return of the rodeo this year was a good step towards normality and a culturally important movement.
"(The rodeo) is important to the people whose lifestyle it is. It's part of their culture. We were raised with horses. I was raised with horses, my father was raised with horses, so was my grandfather, "he said. "It's part of our culture and part of our heritage.
Before the pandemic struck, the streets would be flanked by stalls left and right offering food and souvenirs. The event would also typically include other outdoor cultural activities to entertain the huge crowds.
"It was disappointing that they focused the festival only on rodeos, so there was no street activity," said Dumais. "Usually we have shows, marquees, dancing."
"People like to go for a walk with a beer while listening to music and socializing with each other. This is really the heart of the event, "he added.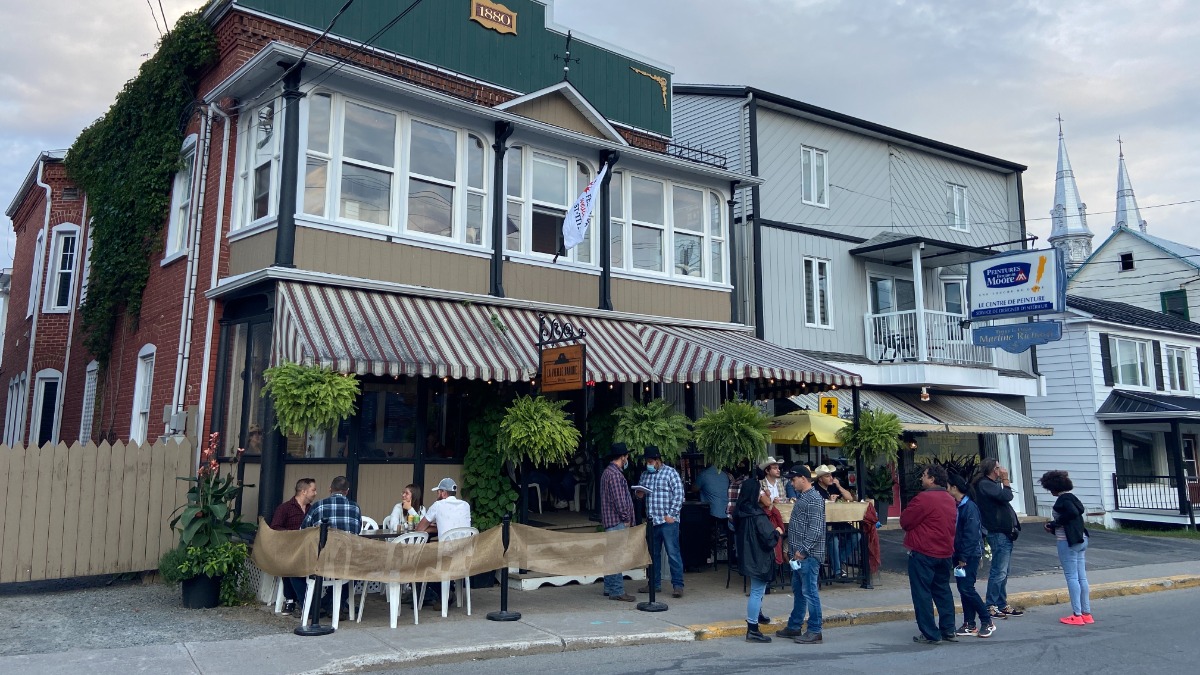 If only one in ten festival-goers buys a ticket to the rodeo, Denis has missed the booths.
"Of course, we were disappointed that the festival was limited to the activities organized in the Coors Original grandstand," she said. "We understand it was for the best, to keep everyone safe and healthy."
A way forward for rodeos
Barbara Poulsen of the Canadian Professional Rodeo Association said she believes rodeos can be safely held during the pandemic "provided every event and everyone involved follows provincial and community health guidelines and mandates. current ".
Burgeois knows that this is not an easy task. Each year, the rodeo is organized with the help of 650 volunteers.
"Oh man. It takes a lot of organization to be able to run rodeos with all these measures for sure. We were lucky, we had a lot of volunteers to help us out," he said.
But he also admits that doing this in the midst of a pandemic is a challenge not all rodeos are up to.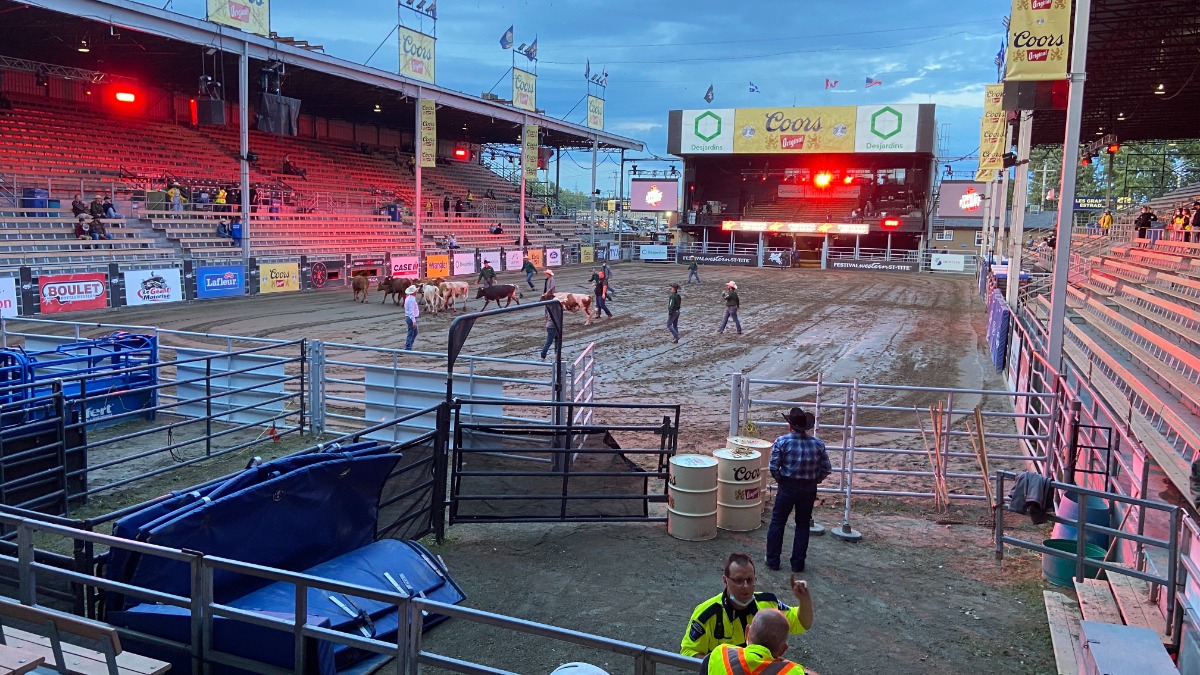 "I don't know if other organizations in Quebec would be able to organize these competitions with all these public health measures. I know a lot of them threw in the towel because it was way too expensive and too demanding in terms of the number of staff needed (to comply with COVID-19 countermeasures), "he said. added.
No matter what the challenges, getting back to normal is always the vision of the rodeo.
"It is important for us to carry on the tradition in order to keep the country-western culture alive," said Denis. "We hope we can get back to the way we usually do things. "
La Mauricie and Center-du-Québec, which includes the city of Shawinigan and is located between Montreal and Quebec, has approximately 500,000 people.
The number of COVID-19 cases for the region increased at the end of July when the Quebec government declared the entire province a green zone, but the numbers remained stable for about a month before the rodeo festival.
---