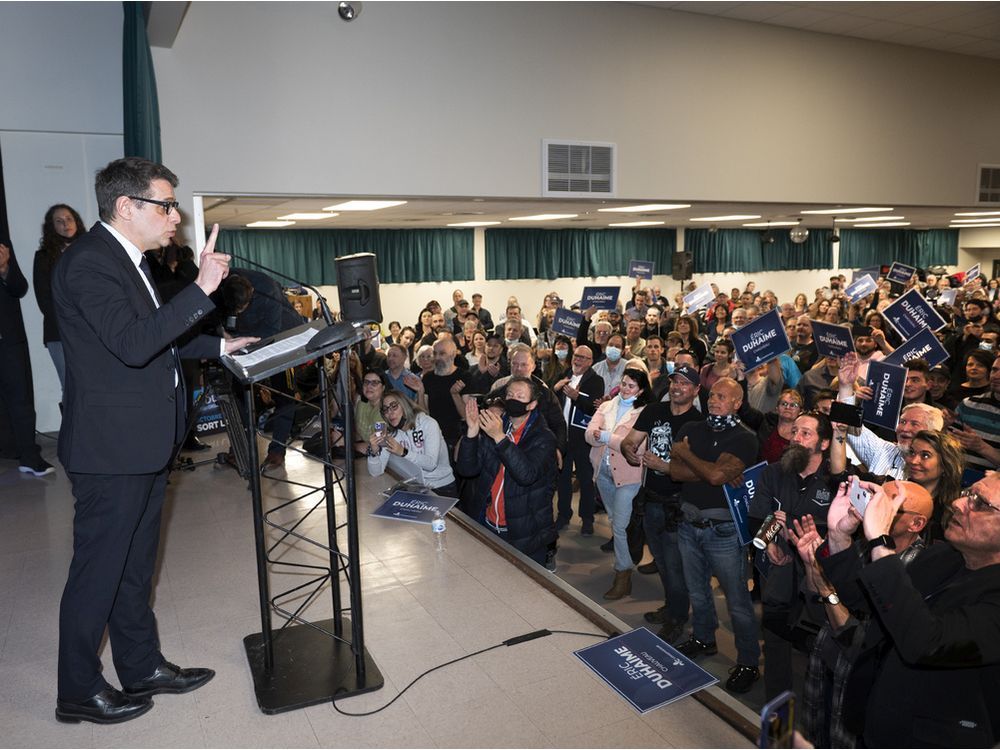 Quebec Conservative Leader Éric Duhaime launches election campaign
Announcement that he will run in the riding of Chauveau in Quebec, the former stronghold of the CAQ.
Content of the article
QUEBEC CITY — The riding of Chauveau, just north of Quebec City, will be among those to be closely watched on the night of Oct. 3.
Content of the article
This is the riding that Éric Duhaime, leader of the Conservative Party of Quebec, has chosen to run in the next general election, trying to become the first member elected under the party banner.
As Quebec faces a sixth wave of the COVID-19 pandemic, the party held a large rally in support of Duhaime's candidacy.
In a speech, Duhaime described his party as the only real opposition to the Coalition Avenir Québec and "the only (political) option" capable of defeating CAQ leader François Legault on October 3, "the most important of our lives". .
He repeated his attacks on the government for putting democracy "on hold" for two years, abandoning elders, governing by decree, signing contracts without tenders, breaking promises, committing ethical breaches and lied.
Content of the article
He also said he was against the Quebec tramway project, which "will destroy Quebec City".
Chauveau voted 47% for Sylvain Lévesque of the CAQ in the 2018 election, more than double the vote of second Liberal Véronyque Tremblay, who was the incumbent. Former Conservative leader Adrien Pouliot, who also ran in this constituency, won less than 9% of the vote, ranking fifth.
The riding had been a stronghold of the CAQ's predecessor, the Action Démocratique du Québec, with MPs Gilles Taillon and Gérard Deltell having easily won it since 2007. Federally, the riding votes for the Conservative Party of Canada.
A former radio host in Quebec, Duhaime is well known to voters in the region for his outspokenness. He has strongly opposed public health measures, increasing support from those who are also against the restrictions.
His notoriety, and that of the party, which former CAQ MP Claire Samson joined last summer, is reflected in opinion polls. Election projection website QC125 shows Duhaime's party neck and neck with the CAQ in Chauveau, giving Duhaime his best chance of winning a seat. Provincially, the party won an average of 13%, slightly ahead of the Parti Québécois.
Dropping Anglo CEGEP clause from Bill 96 won't be easy, says Legault

Parents and students worry about the impact of French courses in CEGEP