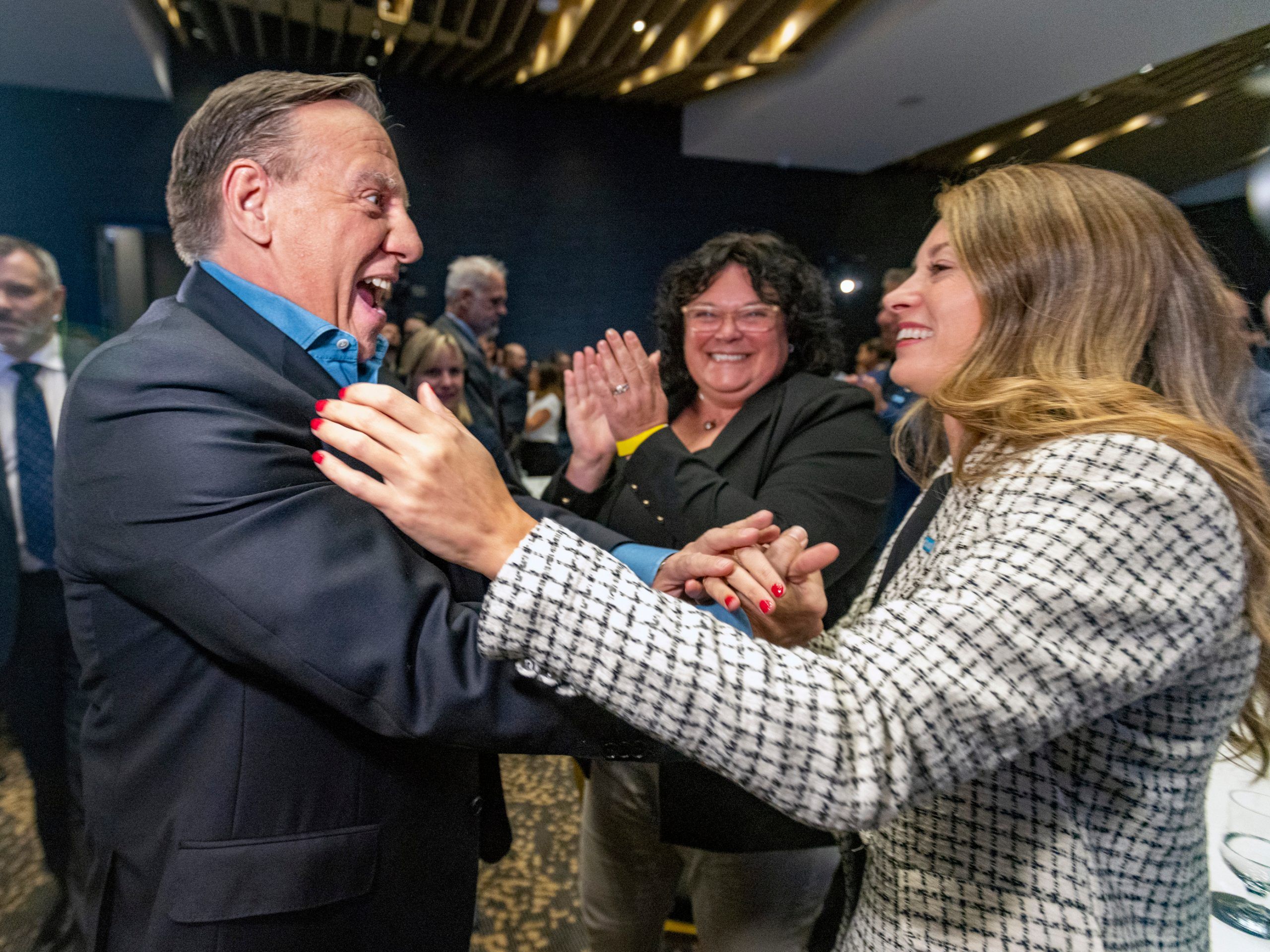 Ottawa won't be able to resist Quebec's demands for immigration powers: Legault
Winning more powers, including over temporary workers and the family reunification program, was a key part of his election campaign.
Content of the article
If Quebecers want more powers over immigration, as expressed in Monday's election, no one in Ottawa will be able to resist the move, Premier Francois Legault said Thursday.
Content of the article
Emerging from a first meeting of his newly elected Coalition Avenir Québec caucus at a Brossard hotel, Legault mounted pressure on Ottawa for its refusal to cede more powers to Quebec in the name of protecting French.
Content of the article
"If Quebecers want the government of Quebec to have more powers over immigration, no one will be able to resist that," Legault told reporters as he left the caucus.
"It becomes a priority, it becomes a priority, and, I said, even in the next federal campaign."
His remarks echo those of his minister responsible for Canadian relations, Sonia LeBel, who said earlier today that Quebec does not consider the door closed in Ottawa.
"We're going to keep going," LeBel told reporters. "If you take no for an answer, you don't move forward, so we don't take no for an answer.
Content of the article
"We will continue to discuss.
Legault and LeBel's comments follow those of Prime Minister Justin Trudeau and his Quebec lieutenant, Pablo Rodriguez, on Wednesday. The two said that despite the province's demands for more power to protect French, they believe Quebec already has all the powers it needs.
Legault has made obtaining additional powers over immigration, including over temporary workers and the family reunification program, a key part of his election campaign.
Twenty-six percent of newcomers fall into the family reunification category, controlled by Ottawa. This represents approximately 10,600 new arrivals per year. Quebec wants to have more of a say because about half of these immigrants don't speak French.
Content of the article
Trudeau has repeatedly said that Ottawa has no intention of ceding power to Quebec, but Quebec persists. At one point in the campaign, Legault floated the idea of ​​an immigration referendum to increase pressure on the federal government.
Today, with 41% of the vote and 90 seats, the government believes that its bargaining power is even stronger.
"For us, the door is not closed to discussions," LeBel said. "I take what they said as an opening to continue. We will continue discussions. We don't consider it over.
"We are starting a new mandate, and for us it is a priority to have more powers in terms of immigration. We are convinced that more is needed to ensure a balance between the labor shortage and the development of French.
Content of the article
"I heard from Mr. Trudeau that Quebec should have the necessary tools to function.
But while most caucus members were tight-lipped in their comments to reporters about the election, a few acknowledged that the party was not at its best when it came to the immigration issue.
At one point, Legault seemed to link immigration to violence. He then apologized.
His immigration minister, Jean Boulet, also made controversial comments during the campaign.
"We are going to restore things," declared Chantal Rouleau, one of the only two CAQ deputies elected on the island of Montreal. "It is the dialogue that must be re-established because a mistake has been made. Mr. Boulet apologized.
"These were remarks that went well beyond what the person thought."
Content of the article
She insisted on the fact that the remarks did not harm the chances of the CAQ in certain electoral districts such as Verdun and Maurice-Richard, both of which went to Quebec solidaire.
For Deputy Premier Geneviève Guilbault, the key is better communications.
"We can always communicate more and better," Guilbault told reporters. "I think we need to communicate the idea that we are clearly pro-immigration. It's important, it makes our society richer, not just economically, but humanly.
"We have to be clear that we are welcoming."
For the days to come, Legault must now devote himself to the daunting task of forming his new cabinet. With 89 people to choose from, the job will be more complicated than it was in 2018.
"We have a great team," Legault said. "Of course, the biggest challenge in the coming weeks is the creation of the cabinet because there are so many strong people that the choices will be difficult."
Content of the article
He will have to decide between the veterans he already has in place and the many new faces who have been elected in addition to ensuring a fair balance between men and women and a representative for each region of Quebec.
While most MPs cautiously avoided questions from reporters about whether they saw themselves in cabinet, Guilbault took the unusual step of saying she wanted to give up her role as minister responsible for the Quebec region. She did not explain why, but we do know that she fell out with the mayor of Quebec, Bruno Marchand, about the CAQ's vision for the region.
Some players stepped out of roles they had in the previous government, including Boulet.
The only minister who has regained his post is the Minister of Health, Christian Dubé. Legault made that clear during the campaign.
Content of the article
Asked by the Montreal Gazette on Tuesday if he intends to retain the title of minister responsible for relations with English-speaking Quebecers — a role he assigned to himself in 2018 — when he forms his new cabinet, Legault said: "I'll think about it, but so far , yes.
On Thursday, the Quebec Community Groups Network, an umbrella group of English-speaking organizations, asked Legault to appoint a full-time minister for the post because it believes Legault does not have time to do so.
"I would say that we already had a minister responsible for Anglophone relations," reacted Christopher Skeete, MP for the riding of Sainte-Rose and Legault's parliamentary secretary for relations with English-speaking Quebecers. "His name was François Legault and he was prime minister.
"So this is something that has already been given. We will see what the Prime Minister decides next time.
Legault briefly addressed the caucus before reporters were asked to leave the room.
"Yes, it's a clear mandate, but it means we have great responsibilities," Legault said.
Content of the article
Legault also told caucus that after a grueling 36-day campaign, he was suffering from a cold. He said he had tested himself three times for COVID-19 and the results were negative.
Quebec already has "the tools in hand" to choose immigrants: federal minister

Plante calls for a "calm and global" debate on Quebec's immigration needs

Hanes: Which Francois Legault do we believe now that the election is over?