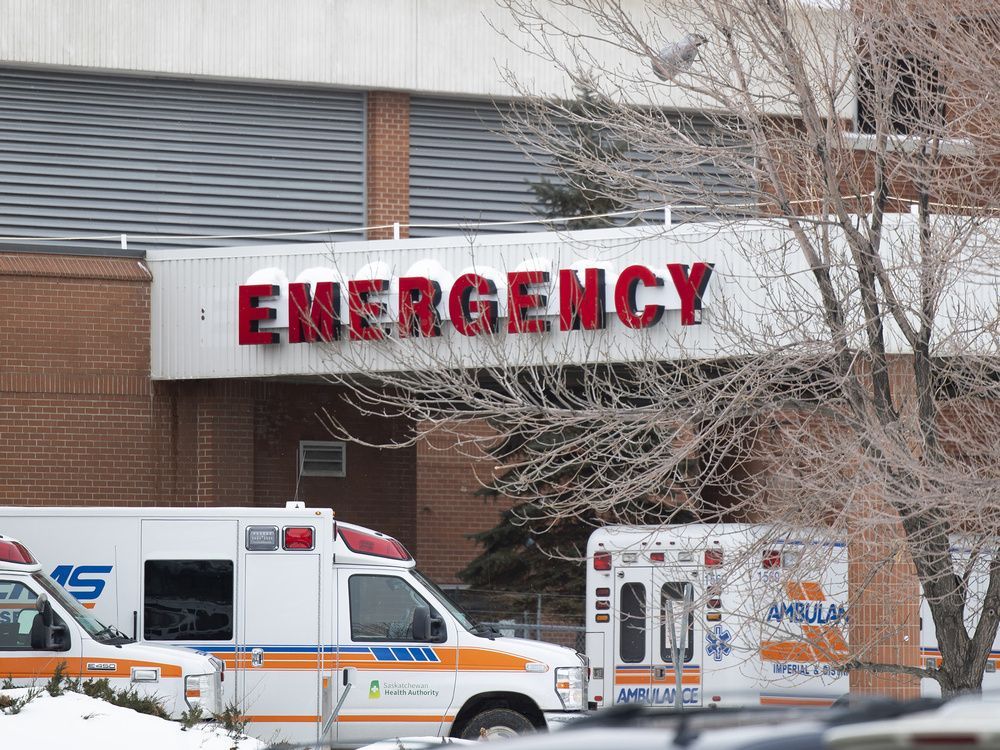 Opinion: Canada's Health Care Crisis, Sask. is rooted in politics
The health care system needs major reforms and simply throwing money at the problem won't be enough to fix it, writes Jim Harding.
Content of the article
We all know we are going through a health crisis. And, that at the base, it is a political crisis. Our federal and provincial leaders must quickly meet the music before the band stops playing.
Content of the article
It's not that we didn't see it coming. Even before the pandemic, doctors and nurses were warning that structural and administrative changes were urgently needed. Now, with widespread depletion and bailouts, major reforms are imperative. No time to laugh politically.
Our Canadian federation has not been very proactive, especially when it comes to the climate crisis. He was unprepared for the pandemic and the management of the piling up crises is starting to look like the status quo.
It does not go well !
We are witnessing the unthinkable: dying patients awaiting treatment in overwhelmed emergency departments.
The pandemic started with pots and pans banging: "We are all in this together. And, while our clumsy federation has achieved a high vaccination rate and a relatively low death rate, things have deteriorated into angry protests against the "freedom" of disregarding the greater good.
Those who claim the right not to be vaccinated or not to receive boosters will continue to fall seriously ill, in greater proportions, adding new pressures to our imploding health care.
It's not that we don't know what to do; the Canadian Medical Association has clearly laid out the way forward. We need to establish universal primary care, with services that are both comprehensive and integrated. Period.
Canadians, overwhelminglily, support universal health care. Still, Globe and Mail health columnist André Picard regularly pointed out this "Canada has least universal" of all the public systems.
Content of the article
The 2021 Commonwealth Fund report ranked Canada 10th out of 11 countries surveyed for health care equity and outcomes; just ahead of the USA
Personal experiences reflect the trend. I've had six family doctors in eight years. Many have left the province. Last fall, I entered the cardiac ward late for urgent procedures, just as they were closing some wards to deal with the Delta COVID-19 wave.
Meanwhile, the Saskatchewan Party government ended vital public health mandates, even though there were already signs of the more contagious variant of Omicron.
Everyone, top to bottom, is now facing. It's no surprise that a survey by the Saskatchewan Medical Association found that more than 70% of physicians find their jobs less satisfying and don't think the government listens to them.
Two-thirds report deterioration in their own mental health, with widespread concern about inadequate healthcare and isolation from colleagues.
Effective, integrated health care simply does not exist. There is no patient-centred, holistic and coordinated continuity of care. The system is fragmented, which is inefficient, wasteful and costly.
Of course, healthcare should be evidence-based, which doesn't mean a prescription for every disease. Credible and alternative modalities must be integrated into multidisciplinary team practices.
If I hadn't had the energy and support from my family to be my own advocate, I would have fallen even more through the cracks. I had to diagnose serious side effects from the medications. Alone, in the cracks, this is where many people, desperate for care, are abandoned.
Content of the article
Meanwhile, at the recent first ministers meeting, there was a united call for the federal government to increase health care funding from 22% to 35% of the $300 billion spent each year.
BC Premier John Horgan has called the federal government "dishonest", insisting that provinces could already receive 35%, if tax credits were considered.
There's a lot of dishonesty to go around. A week earlier, Saskatchewan Premier Scott Moe reassured rural supporters that, while he did not want separation, he would fight for provincial autonomy.
There is no lack of hypocrisy; while calling for massive federal funds, conservative politicians preach the mantra of tax cuts.
Half of provincial spending now goes to health care, so this crisis has political ramifications for every premier. The latest Angus Reid poll shows that two-thirds of the electorate think the Saskatchewan Party has mismanaged health care.
It is disconcerting that the new NDP opposition leader, Carla Beck, does not press this point vigorously.
The apparent solidarity of prime ministers masks serious health policies. If the provinces continue to go it alone, as they have done most of the time during the pandemic, we will continue to receive a patchwork of inadequate services.
It was the provinces, with protected jurisdiction over health care, that oversaw the shrinking critical care capacity; long-term care turning into for-profit warehousing; and decades of procrastination over harm reduction measures to address mental health and addictions. And no full home care.
Content of the article
Thousands of Canadians died needlessly.
You can see why the federal government wants the additional funding to be outcome and outcome oriented.
Although the provinces will continue to provide health care, there must be health care to be provided. And federal-provincial coordination and planning, operating with the same well-articulated basic vision, must replace political grandstanding.
Throwing more money into this deepening crisis, letting territorially inclined prime ministers play politics with the taxpayer, will not solve the problem. Funding that progressively builds public infrastructure to provide universal primary care, with comprehensive and integrated services, is the way forward.
Jim Harding is a retired professor of environmental and forensic studies. He was director of alcohol and drug policy and program research at Sask Health.
Opinion: The collective COVID crisis will hopefully spur change for the better

Opinion: The parochial way of governments leads us to a collision with the Delta variant
Want to know how we decide what to cover and how editorial decisions are made at the Saskatoon StarPhoenix and the Regina Leader-Post? Get the weekly Letter from the editor newsletter from editor Russell Wangersky and join the discussion on what's happening in news coverage and commentary delivery, both in print and online. Click here to subscribe.