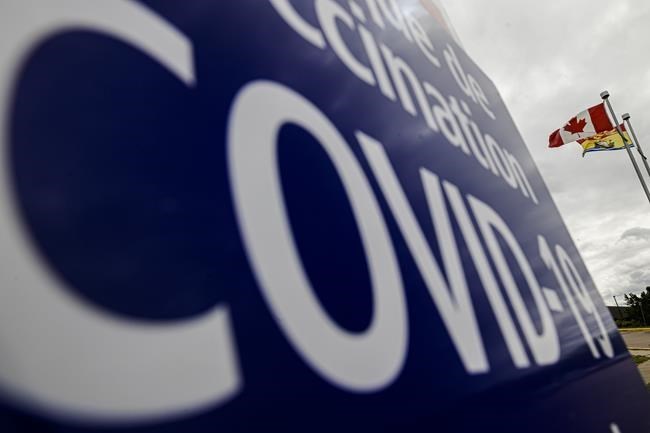 New Brunswick tightens COVID measures while Quebec and Nunavut lift some restrictions
New Brunswick announced tougher public health measures on Thursday as COVID-19 hospitalizations continued to rise in several provinces and the Omicron variant fueled more infections across Canada.
New Brunswick announced tougher public health measures on Thursday as COVID-19 hospitalizations continued to rise in several provinces and the Omicron variant fueled more infections across Canada.
Meanwhile, Quebec has announced it will lift its curfew next week as researchers say the province may be over the worst of the latest wave of the pandemic. Nunavut also said it was ready to lift its lockdown measures as the number of cases dwindled in the territory.
Nunavut's Chief Public Health Officer, Dr. Michael Patterson, says strict measures put in place just before Christmas helped control the spread of COVID-19 which has spread through the territory like never before. previously.
On Monday, travel restrictions are due to end in Nunavut and businesses will be allowed to reopen. Schools have also been given the green light to resume in-person learning on January 24.
New Brunswick Premier Blaine Higgs said new measures will take effect Friday. Residents will be restricted to a single-family bubble, and gyms, entertainment venues and restaurants inside restaurants must close.
Higgs said lockdown measures are a last resort, but necessary to protect the healthcare system.
Neighboring Prince Edward Island also announced it was extending the measures as its top doctor said the "worst of this wave" was yet to come.
Dr. Heather Morrison, chief medical officer of health, told a press conference in Charlottetown that it will likely be another two weeks before cases peak in the province, but said it was not clear how much worse it would get.
Current Prince Edward Island measures include a limit on personal gatherings to 10 people and capacity restrictions for businesses including gyms, retail and places of worship. Remote learning for school children will also continue.
In Newfoundland and Labrador, the final decision on whether or not to resume in-person learning has yet to be made. Officials said a safe return date will be announced next Wednesday.
The Public Health Institute of Quebec said Montreal may have peaked for this wave of COVID-19.
Quebec's National Institute of Public Health said in a report that half of its simulations showed new cases had peaked and hospitalizations would peak by Monday. The other half suggests that the climax could be reached in the days or weeks to come.
Premier François Legault announced that Quebec's provincial curfew – the only one in place in the country – will end on Monday.
The curfew has been criticized by social agencies as further marginalizing women facing violence, young people and low-income residents. The government said it was put in place to reduce the transmission of COVID-19.
Quebec reported an increase of 117 COVID-19-related hospitalizations, bringing its total to nearly 3,000.
Ontario also saw an increase in hospitalizations of 182 to an all-time high of 3,630. School boards have asked the province to reinstate COVID-19 reporting and tracking when schools reopen. schools next week, to support families and children who are already facing a lot of uncertainty.
The province also said it was trying to determine "true" COVID-19 mortality data by asking hospitals to document whether deaths were caused by or associated with the virus.
On Thursday, Manitoba's chief public health officer said schools will no longer notify close contacts of individual infections when students also return there next week.
"Omicron is so highly infectious (and) has a shorter incubation period that by the time you do contact tracing, many contacts could already be symptomatic," Dr Brent Roussin said.
A school board in Delta, B.C., is requiring its employees to show proof of COVID-19 vaccinations to protect staff and students. Staff who are not vaccinated will have to undergo regular rapid tests or take unpaid leave.
In Saskatchewan, Premier Scott Moe tested positive for the virus after taking a rapid antigen test. He isolated himself and said he would work from home for the next five days.
Dr. Deena Hinshaw, Alberta's chief medical officer of health, said about two in five people there test positive for the virus. With limited testing available to the public, provincial data shows only a fraction of the true spread of COVID-19.
"Not having access to the same level of detail and data can be disorienting. Not having access to testing for mild symptoms can be frustrating."
She added that Albertans "still have the power" to protect themselves and their communities by following public health measures and exercising caution.
About 6,000 new cases have been reported in Alberta, bringing its number of active cases to nearly 63,000.
In Ottawa, the federal government said a vaccination mandate for truckers entering Canada from the United States would begin on Saturday as planned, despite an earlier statement from the Canada Border Services Agency that Canadian truckers would be exempted.
Officials said the CBSA statement Wednesday night was "provided in error" and that Canadian truckers must be vaccinated if they are to avoid quarantine and a pre-arrival molecular test.
This report from The Canadian Press was first published on January 13, 2022.
Alanna Smith, The Canadian Press