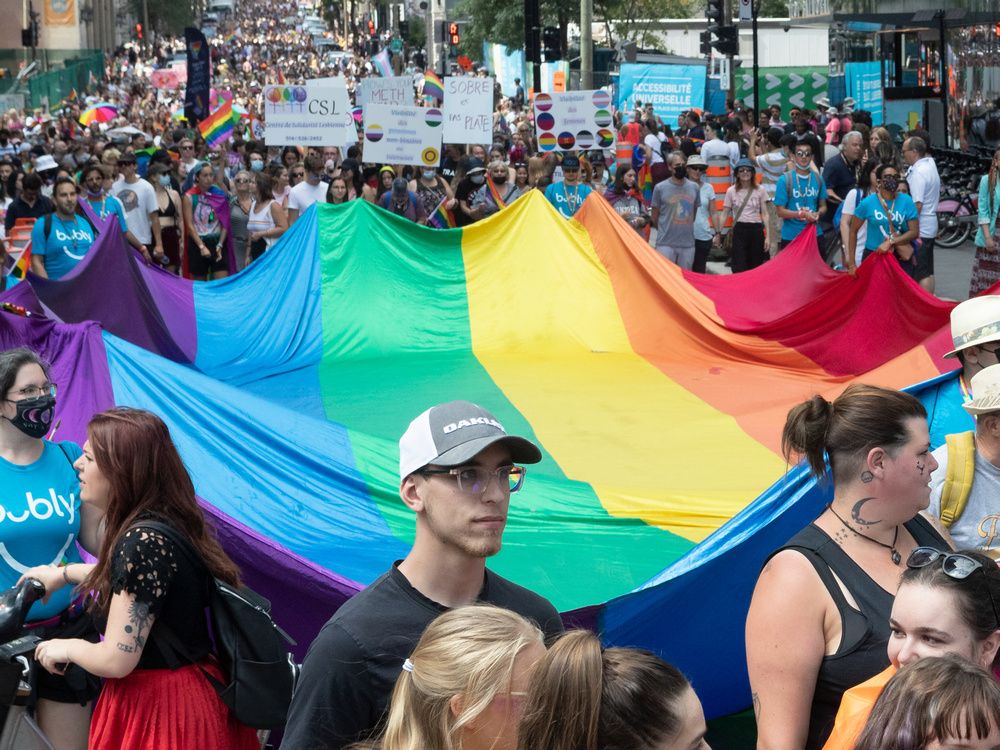 Montreal Pride sets out the demands of LGBTQ2+ communities
The group says organizations should have stable funding, non-disclosure of HIV status should be decriminalized, and the government should recognize systemic racism and improve sex education.
Content of the article
On the eve of Montreal Pride, which takes place from Monday to August 7, the festival launched a request for adequate funding from LGBTQ2+ community organizations.
Content of the article
On Sunday, Chief Executive Simon Gamache lamented the project-based funding of these organizations.
He said a lack of funds means more than 150 LGBTQ2+ organizations in Quebec, whose services include sexual and mental health counseling, risk losing their employees once a project is completed.
"That means continuity cannot be assured," he said. "We want adequate funding so that we can really consider long-term planning."
Funding for these community organizations tops the list of Montréal Pride's 10 demands, which are based on work carried out over the past two years with the Conseil québécois LGBT.
Among them are claims related to the human immunodeficiency virus that causes AIDS.
"There are different treatments that allow someone to live with HIV," Gamache said. "But the RAMQ (Régie de l'assurance maladie du Québec) does not cover them. This is a big problem, because these treatments provide a quality of life for people living with HIV.
Content of the article
Montreal Pride also wants the non-disclosure of HIV status to be decriminalized. Under current Canadian criminal law, people living with HIV can be charged and prosecuted if they do not tell their sexual partners before having sex that they are HIV-positive.
For more than 90% of people treated for HIV, the drugs control the virus so well that it is undetectable – and when the viral load is so low, people do not pass the infection on to sexual partners, Gamache explained.
"But if you don't tell your partner you're living with HIV, you can end up behind bars – and that's absurd, given the progress of research," he said.
The start of the Pride festival coincides with the 24th International AIDS Conference, which kicked off in Montreal on Friday, and there has been collaboration between the organizers of the two events.
Content of the article
Gamache lamented that visas were denied to several delegates to the AIDS conference. "We are talking about high-level researchers; it's complete nonsense," he said.
Pride Montreal had the same problem: a British artist could not obtain a visa to participate in the festival, as did activist Joseph Messinga Ngonka, honorary co-president this year.
"One of our co-chairs is from Cameroon and also came here for the AIDS conference. Today is July 31 and he has been waiting for his visa for months," Gamache said. "If he gets it, we'll welcome him with open arms."
Other demands relate to public acknowledgment of systemic racism and a commitment to fight discrimination.
"Unfortunately, the Quebec government has yet to publicly acknowledge systemic racism. We think that's really the basis of everything," Gamache said.
Content of the article
He said he would also like to see changes in school curricula when it comes to sex education.
"There is less and less education on sexuality in Quebec schools, but for the education that does exist, it is important to ensure that we are not just talking about the usual binary and heteronormative male-female models. .
He noted that people, especially young people, are ready to express a more fluid identity.
However, among older members of the LGBTQ2+ community, the situation may be quite different. "We hear about people who might be going into long-term care homes or seniors' residences, and unfortunately they often have to go back into the closet," Gamache said.
He said he wanted the government to put in place programs to support older Quebecers LGBTQ2+ and reduce their isolation in society and in such living environments.
"In these environments there is often a denial of sexual orientation and gender identity," Gamache said. "It is important to ensure that staff are well trained, understand the challenges and are able to accommodate these people to create inclusive environments.
The demands of the LGBTQ2+ communities will culminate with the Pride parade, scheduled for next Sunday along boul. Rene-Levesque.
Inclusiveness key as Montreal Pride gears up for first full edition in three years

The evolution of drag in Montreal and how RuPaul changed the game