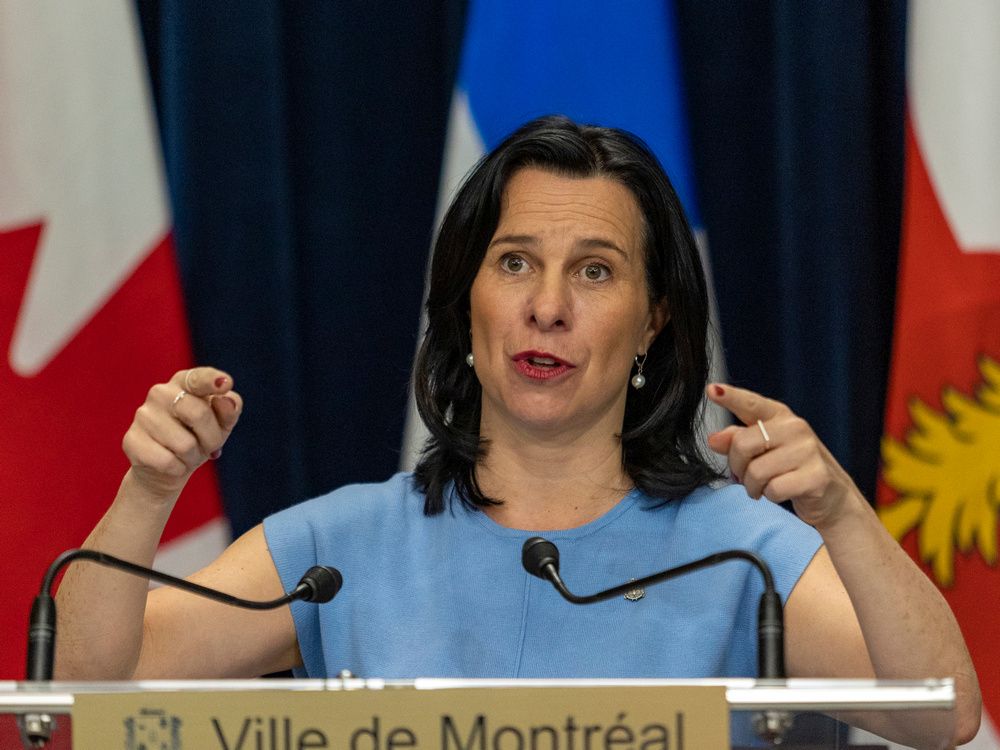 Mayor Valérie Plante denies Quebec police funding was misappropriated
"We won't let anyone attack our integrity on this," she said following allegations in news reports.
Content of the article
On Friday, Montreal Mayor Valérie Plante vehemently denied reports that her administration misappropriated provincial funds earmarked for additional policing.
Content of the article
"I'm fed up with those who want to tear people and the police apart by saying that we want to defund, that we want to take money away" from the Montreal police, she told reporters on Friday. "That's not true. … It didn't happen, it wasn't done.
Content of the article
Plante was responding to reports from La Presse and TVA citing unnamed sources saying the Quebec government suspects funds intended to bolster security measures have been diverted by the city to other municipal services.
The allegations follow complaints from the Montreal Police Brotherhood that Plante and the city aren't doing enough to sustain the force and that it doesn't have enough officers.
Security concerns escalated after two men were killed in less than an hour on Tuesday afternoon in separate incidents in heavily populated areas.
Content of the article
Plante said his administration had increased previously budgeted funding amounts for the police force and had been rigorous in its management of public finances.
"We do it very flawlessly. That's my message, and we won't let anyone attack our integrity about it," she said.
"All the money in each budget, each time, whether it's money dedicated to the SPVM, it goes to the SPVM, whether it's money dedicated to other things, it goes to those things .
The Montreal administration is working closely with the provincial government and will soon release its plan to increase security measures, Plante said.
"The Government of Quebec never gives a blank check," she said. "There is always a tight accounting."
Content of the article
Public safety in Montreal has become a campaign issue ahead of the October 3 provincial election. Opposition leaders from the Liberal Party, Québec solidaire and the Conservative Party, among others, weighed in Thursday to criticize the Coalition Avenir Québec government's response.
Meanwhile, the opposition at City Hall asks the Auditor General of Montreal to launch an investigation.
"If the allegations are true, it's unacceptable," said Aref Salem, leader of Ensemble Montreal. "As a feeling of fear sets in and our city is experiencing a public safety crisis, it is irresponsible to cut funding for the SPVM.
Abdelhaq Sari, the party's security spokesman, said: "We are facing an administration that believes in defunding the police through the back door.
City finances show the administration spent $745 million on police in 2021, an increase of $37 million from the previous year. In 2020, expenditures for policing increased by $28 million over the previous year.
Two men dead after separate shootings at noon in Montreal

Legault and Plante must do more about gun violence in Montreal, critics say