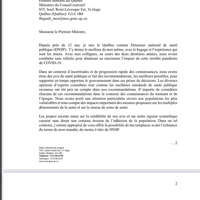 Horacio Arruda resigns from his post of director of public health for Quebec | City News
Quebec's director of public health, Horacio Arruda, sent a letter of resignation to Prime Minister François Legault on Monday evening, after 12 years in this post, and it was accepted.
Arruda's replacement is Luc Boileau, President and CEO of the National Institute of Excellence in Health and Social Services (INESSS).
Arruda resigned amid criticism of how the province handled the latest wave of COVID, involving the highly transmissible Omicron virus. Lately, during press conferences, Legault and the Minister of Health Christian Dubé were questioned several times to know if the government still trusted Arruda.
Arruda's letter said he wanted to step down because criticism of the pandemic's handling was damaging the government's credibility.
"Recent comments on the credibility of our opinions and our scientific rigor are undoubtedly causing some erosion of support," he wrote. "In such a context, I consider it appropriate to offer you the possibility of replacing me before the end of my mandate.
"Do not see in this gesture an abandonment on my part, but rather the offer of an opportunity for you to reassess the situation, after several waves and in a constantly changing context."