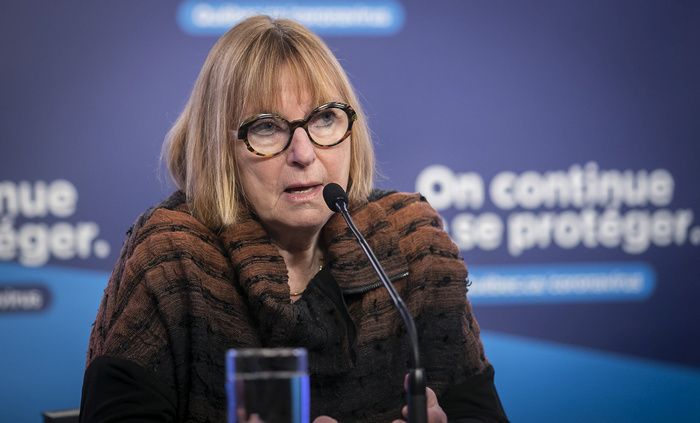 COVID infections in Quebec begin to stabilize, but transmission remains high
Dr. Marie-France Raynault, medical adviser to the Department of Public Health, outlines the recommended practices for "living with the virus".
Content of the article
After six weeks of rising cases and hospitalizations, the number of COVID-19 infections is beginning to stabilize in Quebec, public health officials announced Thursday.
Content of the article
Community transmission, however, remains high due to the contagious nature of the BA.5 Omicron subvariant which is rocking Europe and the United States and has now become dominant in several areas of the province.
The subvariant, which is more transmissible but does not cause more serious consequences, accounts for 43% of cases in Quebec, said Dr. Marie-France Raynault, medical adviser to the Direction de la santé publique.
With polls indicating that Quebecers have widely varying notions of what it means to "live with COVID," Raynault outlined recommended practices during a COVID-19 press conference in Montreal.
"It means taking simple, effective steps that can fit easily into normal life," she said. "Every effort that we can make collectively will allow us not to worsen the situation."
Content of the article
The measures include always having a mask handy and being prepared to wear it in crowded spaces, indoors or outdoors, and staying home and getting tested as soon as one has symptoms. Those who test positive must quarantine for five days, or longer if symptoms persist, and only go out for essential activities for another five days while wearing a mask.
"Many people with symptoms continue to come to work or go out with family, which leads to an increase in transmissions," Raynault said.
She also advised everyone 18 and over to get vaccinated if it's been five to six months since their last, or since their last infection.
As senior health officials have done in previous weeks, Raynault said she's not recommending forcing a return to mandates like wearing masks on public transit or in crowded indoor spaces. , although it seems that most citizens are not heeding government calls to do so of their own accord.
Content of the article
"I think young people tend not to wear masks, and that used to be the case, but for older people who are sick or prone to be sick, we have indications that they have started to wear some. more since last week.
"I think we need to educate people and tell them that we're still in a surge, even though it's the middle of summer, and we have high transmission, and recommend that they wear a mask if they're in situations where there are many people around them.
After two years of the pandemic, "I believe in education and not always in mandatory measures," said Raynault.
Dr Matthew Oughton, an infectious disease specialist at the Jewish General Hospital, said the government needs to give more details on how it plans to educate the public given that vaccination coverage for people receiving a third dose has been stuck at 55% for months.
Content of the article
"We know that a third dose provides the best protection against serious illness, and we've been stuck at that level for months," he said. "It looks like there's been a disconnect. This is not unique to Quebec; I would say that all the provinces have the same problems. But I would say it is a low hanging fruit and I would like to see specific measures planned, given that we know there is a significant benefit for everyone.
The government must launch a public education campaign and focus on outreach programs to bring the vaccines to sectors of the population less willing or able to get vaccinated, Oughton said.
Thursday's COVID-19 figures were less promising than the government's forecast. The number of patients hospitalized with COVID rose by 63 to 1,860. Hospitalizations are now at their highest level in more than two months. Of the hospitalized patients, 45 were in intensive care, an increase of two.
Content of the article
Two weeks ago, Quebec's director of public health, Dr. Luc Boileau, said projections showed hospitalizations, which were 1,260 at the time, would rise to 1,600 before leveling off and falling. come back down.
The province also announced Thursday that 18 additional deaths have been attributed to the virus, bringing the cumulative death toll to 15,726.
Quebec reported that another 2,457 cases of COVID had been confirmed by PCR tests in its clinics. As this testing method is not accessible to most Quebecers, the number of cases is not representative of the situation in the province, but it is the highest single-day increase reported. since April.
Many regions have seen their numbers plateau over the past week, including Montreal, Laval, Lanaudière and Montérégie, Raynault said. But in several others, the number of cases continues to rise. Saguenay—Lac-St-Jean, Gaspésie, the Eastern Townships and the Quebec region have all seen an increase in cases.
Content of the article
"The number of hospitalizations remains high and will remain so for the next few weeks, because we know from previous waves that the decrease in hospitalizations comes later than the decrease in cases," she said.
Raynault noted that the number of patients in intensive care was lower than in previous waves, indicating that vaccines are working to prevent more serious outcomes.
Find all our news related to the coronavirus on montrealgazette.com/tag/coronavirus.
For information on vaccines in Quebec, press here.
Sign up for our email newsletter dedicated to local COVID-19 coverage at montrealgazette.com/coronavirusnews.
Help support our local journalism by by subscribing to the Montreal Gazette here.
Health Canada approves first COVID-19 vaccine for youngest children

Canada reinstates mandatory random testing of travelers arriving at major airports