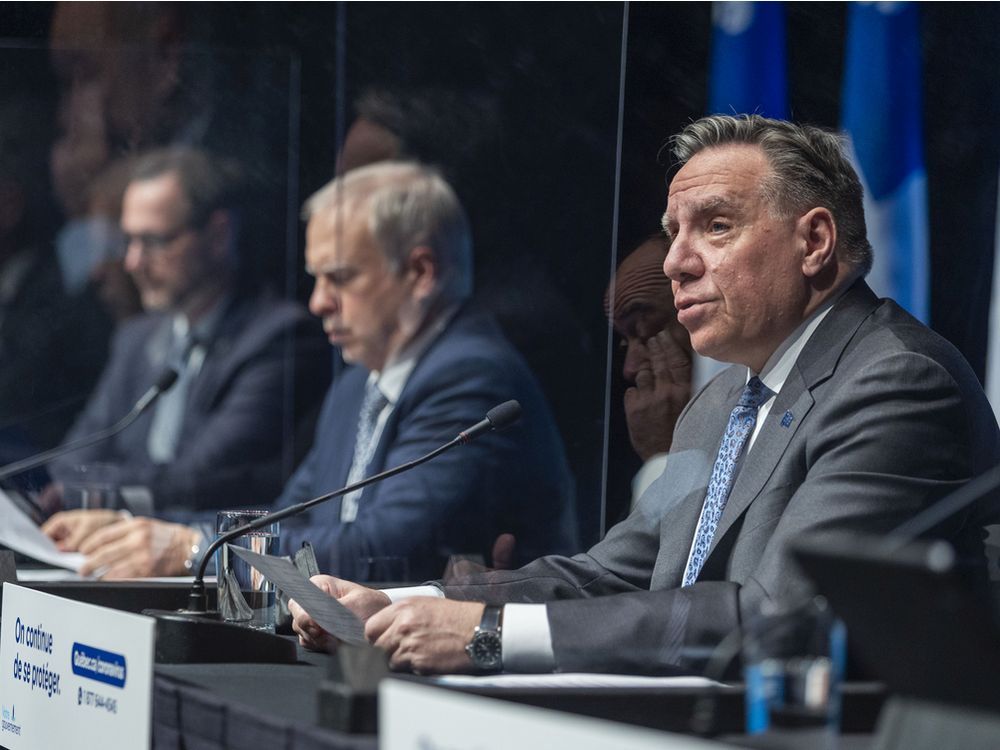 Allison Hanes: As Omicron rages, we Quebecers stand alone
Breaks in public services seem to be a betrayal of the sacrifices we have made. It's as if the government is abandoning us at the worst time.
Content of the article
So many times since the start of the pandemic, we have been told that "we are all in this together".
Content of the article
Nurturing social solidarity at a time of extreme isolation was crucial to Quebec's response to the pandemic. It's one of the reasons Quebecers were hailed for being the most compliant in North America in obeying public health guidelines during the first wave. This is why today we have one of the highest vaccination rates in the world.
We developed new behaviors like social distancing, mask-wearing, remote working and online learning, endured long months of curfews and business closures, and started carrying a digital passport. to access a growing list of locations, from the Bell Center to Costco – anything to show support for exhausted medical staff and help keep the healthcare system from collapsing.
Even when the rules regulating the minutia of our lives border on the pedantic (yes, people now allowed to visit you in your backyard can use your indoor restroom), we trusted the guidelines of the Quebec government, because that's what he was going to do to protect us.
Advertising
This ad has not loaded yet, but your article continues below.
Content of the article
Now that feeling that "it's going to be okay" is quickly eroding. In recent weeks, systems strained by 22 months of pandemic response have reached breaking point under the force of a punitive fifth wave. The rules we relied on to guide us during this ongoing crisis have been changed. And our confidence in the government to keep Quebec functioning at the most basic level has been shaken.
It now feels very much alone as Omicron wreaks unprecedented havoc.
Official testing capability to find out if you have cratered COVID-19 just as cases spiked in December. Quebecers were asked to self-administer rapid tests sent home with school children and distributed in pharmacies. But they're so rare it's like Lord of the Flies is trying to get one of the precious kits.
Advertising
This ad has not loaded yet, but your article continues below.
Content of the article
Quebec's contingency plans for returning children to school may call on parents as a last resort to oversee classes if there are not enough teachers, substitutes, resource professionals or other staff available on a given day. Teachers may be required to resume their duties virtually from home even if they are sick. Classes will only move online if 60% of a class find themselves sick or isolated, leaving many students excluded from learning.
No improvements have been made to ventilation, but nearly 70% of schools have been equipped with a carbon dioxide monitor to measure air quality in classrooms.
However, sharing the data in a meaningful and transparent way was left to the entrepreneur dad who took the initiative to launch the Covid Écoles Québec website, a self-reporting site to track outbreaks in schools. He has now branched out into crowdsourcing positive rapid test results and asking teachers to send in carbon dioxide readings.
Advertising
This ad has not loaded yet, but your article continues below.
Content of the article
But it's the emergency plans for overwhelmed hospitals that really testify to the seriousness of Quebec's predicament. With more than 3,400 patients admitted, 289 in intensive care units, 12,000 health workers sick or in isolation, surgeries are being postponed and procedures delayed. And that's still not enough to cope with the pressure.
Quebec is now on the verge of rationing care to "do more with what it has," said Dr. Lucie Opatrny, the province's deputy health minister. As she said: the healthcare system will start providing B-level care to everyone, instead of A+ care to fewer people.
A new guide prepared by a committee of experts could result in: fewer and shorter hospital stays; greater use of home care and outpatient treatment; recall infected health workers earlier; possible mix between infected and non-infected patients in the department; referral to palliative care; and an invitation to family members – who have so far been excluded even from visiting hospitals – to provide basic services like bathing, feeding and emptying bedpans.
Advertising
This ad has not loaded yet, but your article continues below.
Content of the article
Keeping COVID-19 out of hospitals has been futile, so we're about to give up and mitigate the damage instead.
Quebecers tend to look to the state for solutions in good times and bad. It is a society that values ​​the common good. If the pandemic has made us more dependent on the government, this deepening crisis is now testing its ability to act.
The potential breakdowns in public services appear as a betrayal of the sacrifices made so far. It is as if we were on our own at a time of great uncertainty and anxiety.
But there is a danger for all of us that people will feel increasingly alone when it is more important than ever to do our part.
Allison Hanes: seeing red on Quebec's back-to-school plan

Allison Hanes: Unvaccinated tax is populist but impractical