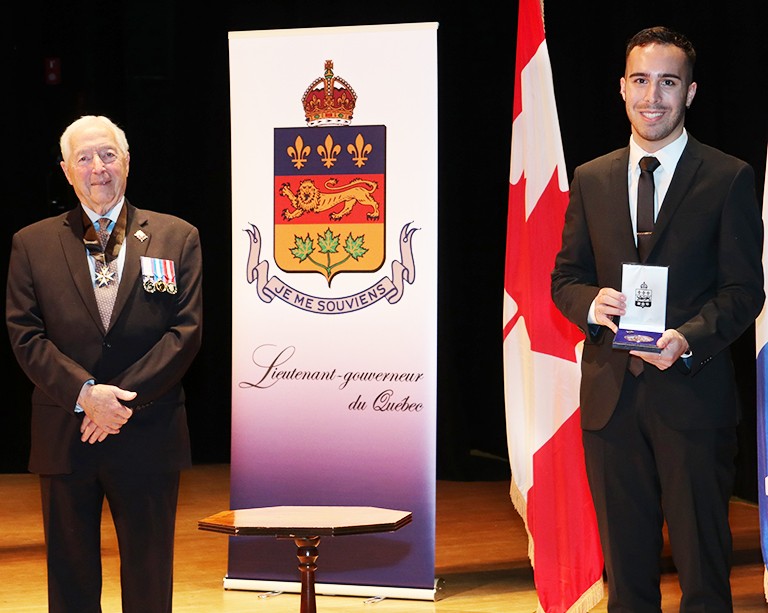 4 Concordians receive the Lieutenant-Governor's Medal for Quebec Youth
The prestigious Lieutenant Governor's Medal for Youth recognizes the involvement, determination and constant effort of Quebecers who have a positive influence in their community. Four Concordia students are among the 2022 winners.
"Congratulations to our incredible Concordians for winning this award," said Andrew Woodall, Dean of Students. "This group demonstrates the incredible impact our students can have on the wider community."
Meet the winners
Aaliyah Crawford
Written press, Faculty of Fine Arts
From the start of her time at Concordia, Aaliyah Crawford has been involved in student life. She served in the elected position of Executive Coordinator of the Fine Arts Student Alliance for two years. During this time, Crawford worked on significant changes to the organization's policies, regulations, and procedures, made their opportunities and services more inclusive for underrepresented students, and forged close and effective working relationships with senior management. .
Crawford also participated in the Queer Print Club and the Fine Arts Reading Room. Throughout this time, she has maintained a high academic standard with awards and recognitions, such as membership in the Golden Key International Honor Society, an organization of academic excellence.
Daniel Amico
Political Science and History, Faculty of Arts and Sciences
Daniel Amico distinguished himself at Concordia with an excellent academic record and in several engagement and leadership roles. During his freshman year, he became editor of Humans of Concordia, an online platform designed to share the stories of students and staff at the institution. Amico was elected Internal Affairs Coordinator at the Concordia Student Union, where he supported the many clubs that form the backbone of student life at the university.
He is currently the Administrative Coordinator of History Students at Concordia, which is the representative body for undergraduate students in the Department of History. Amico is also a member of Concordia's Garnet Key Society.
Melanie Afriat
Behavioral Neurosciences, Faculty of Arts and Sciences
Mélanie Afriat distinguished herself as a researcher and a committed citizen during her university studies. In response to the impact of the COVID-19 pandemic on Montreal's homeless population, Afriat co-founded a small non-profit organization called Urban Uplift. It aims to help those experiencing housing insecurity with immediate support while promoting small businesses affected by the pandemic.
In addition, Afriat works as a crisis worker and counselor for Kids Help Phone, where she received extensive training in crisis and suicide prevention and intervention.
Alexandra Hillcoat
Psychology, Faculty of Arts and Sciences
As an undergraduate student majoring in psychology, Alexandra Hillcoat received impressive research grants and is a regular on the Dean's List while also being recognized as an undergraduate scholar in the Faculty of Arts and Science. She became a volunteer at Sleep, Cognition and Neuroimaging Laboratorywhere she helped test various interventions for sleep disorders.
Hillcoat has joined the West Island Counseling Center's Student Outreach Project as the Student Committee Coordinator to provide a safe and supportive online space for college and university students. She is also a member of the Golden Key International Honor Society.
Learn more about Quebec Lieutenant Governor's Medal for Youth.
Learn more Concordians who make a difference on and off campus.